Quest for Fire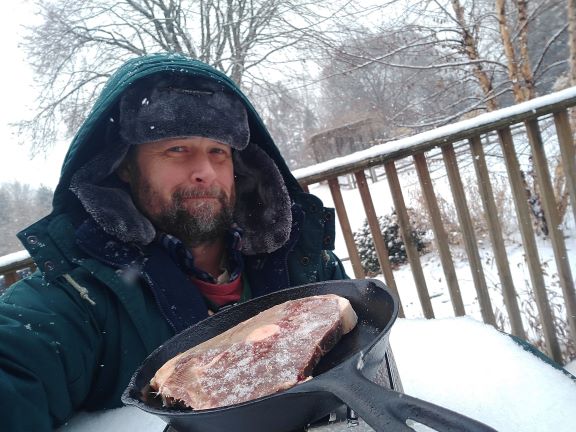 After a rough go of being a carpetbagger in Atlanta a few years ago, and deciding to go back north, I had some in-between time at an Airbnb. I'd never stayed at one, and it felt awkward to enter a stranger's home and just feel at home for a temporary amount of time. But rather than just hole up in my room and let others do the icebreaking, I decided to make use of the outdoor firepit. Like a kitchen indoors, I think fire pits have a tendency to attract people together in a common space. 
Meat on a Stick
I went for the full traveling hobo aesthetic. The yard had fallen branches in it, so I selected an appropriate stick for roasting a whole chicken I'd bought on the cheap at the supermarket. Chicken securely on a stick, I started a fire and constructed a primitive spit to roast the chicken on, as the light failed on a winter's day. 
Coming Together
Sure enough, other people staying at the Airbnb were drawn to the smells of cooking and a curious Airbnb-er/hobo in the backyard. A man staying long-term at an Airbnb enrolled in coding school came out and joined. The owner of the house pulled up with an adult beverage. And then her neighbor wandered over with her little lap dog. Soon enough, we had a roaring fire going and a small dog very interested in my open-fire chicken. We put our cell phones away and interacted the old-fashioned way. The Airbnb owner was pleased a guest was actually using the firepit. 
An Outdoor Cooking Skillset
Perhaps it is something ancient and instinctive that stirs in our blood when we sense outdoor cooking, and it needn't be meat-based. Putting some chopped vegetables in foil with simply some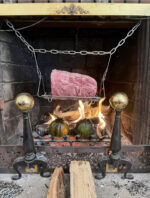 olive oil and spice, and cooking patiently over an open fire, does the trick as well. Open-fire cooking requires a slightly different skill set than indoor cooking. It is harder to control a woodfire, and sometimes hard to even get the fire started – but rewarding to the persistent. Bugs are kept at bay from the smoke, and you have more limited tools to work with (thus less clean-up) since you can't bring everything, and the kitchen sink, outside. 

Colonial Roots
Speaking of which, you can even cook "outdoor-style" indoors, as did colonial ancestors in revolutionary and frontier times. If you've ever seen a colonial kitchen, you've seen a massive kettle hanging in the fireplace and usually a fireplace soot streak going up the wall. Colonial cooking combines the best of indoor and outdoor cooking. Similarly, world cuisine is known for its street food/outdoor element, from Mexican roasted corn vendors to all kinds of food-on-a-skewer to a type of Egyptian bread cooked right in the warm sands (and when you eat it you don't encounter a single grain of sand!). I also got inspired by how surprisingly cold Georgia winters were, and with a "borrowed" BBQ from an apartment neighbor, began BBQing meat outside in the snow. I just wanted to upend the normal tradition of the summer BBQ and try it out. It inspired others to do the same and provided a hearty and satisfying meal at the end. 
Live Fire cooking is coming back in style this year and is something Bex Kitchen knows very well. Cooking and eating is not just about sharing space and food but also stories, like this one. So get outside and get grilling! Chef Becky is a proponent of outdoor cooking and encourages you to develop your palate to distinguish between the different ways food is cooked because indoor vs. outdoor vs. solar-cooked vs. microwaved vs. robot-prepared all make a difference.
It all comes out in the final bite!
(This article was submitted by team member Matthew Snope)