The Great American Clam Bake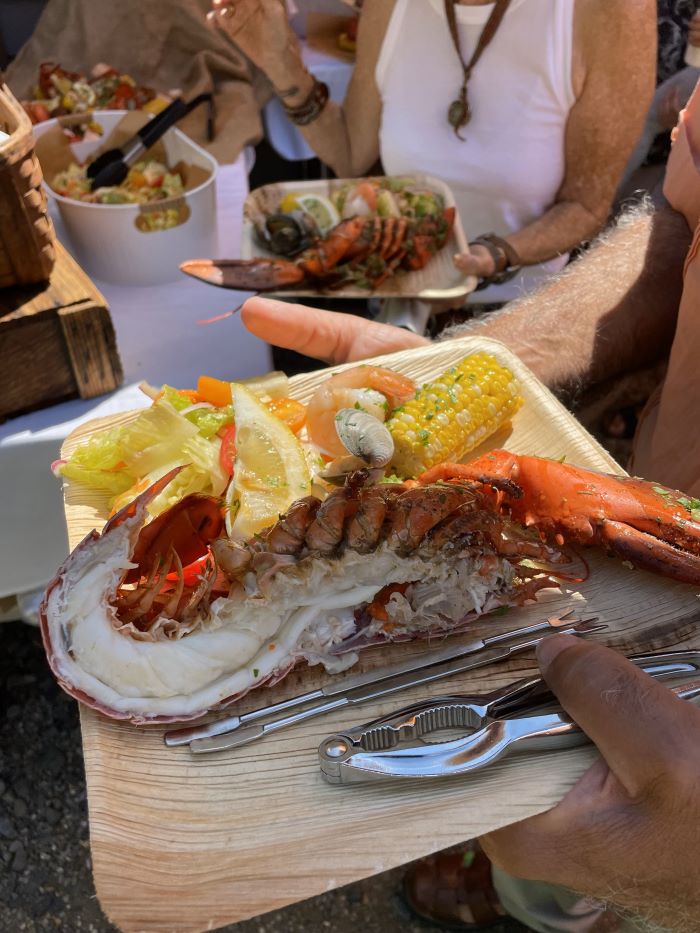 Bex had a successful end-of-summer Clam Bake! 
Gorgeous, perfect weather laid the backdrop for a mellow, friendly event, with live music by Macheis Wind. Evoking a late summer New England beachside clambake, Chef Becky served up a delicious concoction of in-shell lobster, clams, sausage, corn on the cob, perfectly cooked shrimp, small potatoes, salad, and bread. Clarified butter and a swicy cocktail sauce made for great dipping. It was the first time that Chef Becky was able to utilize the grassy area between her cafe and art gallery. A great sense of community was felt by all. 
Bex Fêtes
Chef Becky designed the fête in order to be a leader in the community about the benefits of eating healthy and staying connected to one's local community. "Inflammation affects everyone to some degree," she explains. "And eating anti-inflammatory foods, using food to some degree as medicine, provides benefits to everyone in a community. It takes some work and a different mindset to get away from the greasy treats and heavy foods that are traditional in New Jersey, but you'll find you can eat healthier and still have it taste good." For the next event, a Pig Roast on Saturday, October 14, the Chef plans to have vegetarian options available, as well as takeout. There will also be, of course, deliciously stringy pulled pork for the carnivores. 
Get Lit! 
September 8, 2023, is World Literacy Day. Founded in 1965 by UNESCO, the day promotes literacy around the world and the enrichment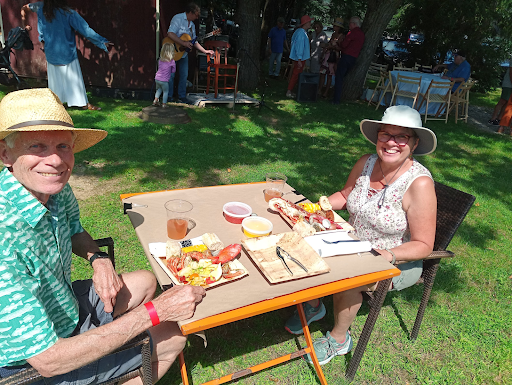 that reading brings to our lives. Sadly, Califon lost its bookstore in the last few years, but thankfully New Jersey still has a rich offering of independent bookstores sprinkled throughout the state. Independent bookstores are staffed by people passionate about books which can add a touch of in-person interaction in a world that orders online – convenient, for sure, but a bit detached. Cafes are synonymous with literacy, as they have long been places for people to eat, drink, and read. The expatriates in France in the 1920s were a literary sort who frequented Paris' cafes and absinthe bars. There is also a long-standing tradition linking food and writing: the cookbook, the chef memoir, and travel writing. You will often find interesting and sometimes quirky and bizarre recipes in old community cookbooks. Food plays a significant role in literature, even showing up in its titles like Why the Child is Cooking in the Polenta and A Moveable Feast and A Feast of Snakes (don't knock it 'til you've tried it!).  
There is also a genre of literature for young people called the light novel: short, fast-paced novels with Japanese manga-style illustrations for the attention-challenged set. The novella has always been a kind of "novel lite" but apparently these novels are geared toward getting youth interested in literature rather than just absentmindedly scrolling their phones to fill up any spare moment. There was a time, after all, when something that had some downtime in it was met with the expression "Bring a book!" (the DMV, a long registration process, urgent care, etc). Happy reading and happy eating! 
Details about the Pig Roast can be found here. We've got whole hog, music, and a beer truck lined up for another fun Bex Fête.