Bourguignon, Two Ways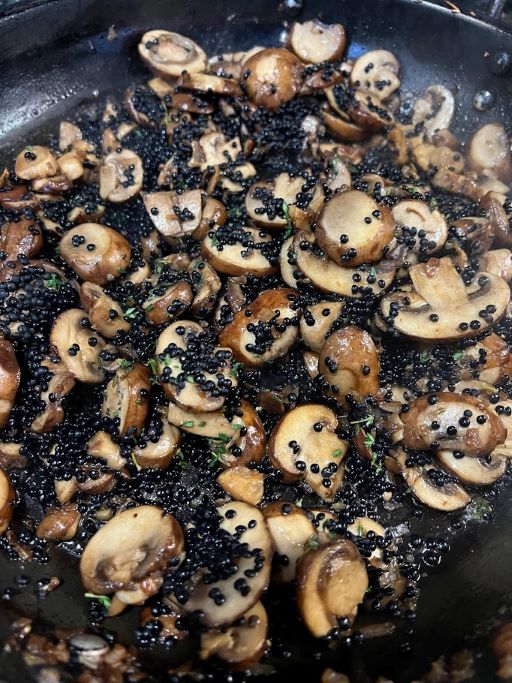 Bourguignon is a classic French stew made from prized beef and wine from the Burgundy region of France. It is thought that Beef Bourguignon began as a peasants' dish, dating back to the early Middle Ages where wine and beef were readily available. This dish evolved as a way to make use of the less desirable cuts of meat through braising so that nothing went to waste. 
Beef Bourguignon is such a popular and classic dish that many chefs have created their own vegetarian versions of this recipe for a healthier version, with Chef Becky being no exception. Chef Becky crafted her plant-based Bourguignon to suit her vegan clientele, developing her Heirloom Bean Bourguignon to be as savory and flavorful as the original beef version. Chef Becky's recipe features a hearty, and simple, recipe of mushroom lentil stew. She uses black lentils for a "fleshy-mouthful" and mushrooms to build that layer of meat-like flavor and color. Both the lentils and mushrooms create a beautiful chocolate-y colored stew. Shallots, baby cremini mushrooms, and garlic are sauteed together, then the black lentils and homemade vegan broth are added for a slow braise to meld all the flavors together. The vegan stock has its own layers of umami flavor, which include mushroom powder and seaweed, further enhancing the overall depth of flavor of the dish. 
Chef prefers to use black lentils in this particular dish for their richer and more earthy flavor and their nutrition. Black lentils (Lens culinaris)  are said to be one
of the earliest crops possibly dating back to 8000 B.C. Lentils are a great source of vitamins and minerals and are high in protein and fiber which is good for healthy gut bacteria. Lentils are also used in other Bex Kitchen favorite dishes such as the Mediterranean Quinoa Lentil Salad and Lentil Shepherd's pie. 
Although the meat version contains meat, red wine, carrots, and herbs, the vegan iteration contains a lot more ingredients to elicit similar flavor and texture in the stew. Either version is perfect for the cold months of winter when you need something warming and satisfying, where the pot seems to go on for days. Most people have heard of the dish as a result of Julia Child, who popularized this dish in her book Mastering the Art of French Cooking or in the movie Julie & Julia, a true tale based on food blogger Julie Powel's quest to prepare all 524 of Julia's Child's recipes from said book, in one year's time frame.  
Those who try Chef's vegan Heirloom Bean Bourguignon experience all the benefits of a plant based dish and don't miss the meat one bit. Chef plates her Heirloom Bean Bourguignon in a bowl with vegan mashed potatoes, made with olive oil, and homemade vegetable stock. She pairs her dish with seared greens of chard, kale, and spinach that have been sauteed with leeks and perfect seasonings. The dish doesn't stop there: a honey balsamic roasted tomato is the cherry on top of this bowl of steaming goodness, adding the perfect amount of acid and fresh bite. Chopped parsley adds a fresh green color, texture and herby flavor for an artfully finished plate that makes you want to dig right in. Interested in having this dish at your next catered gathering? Give us a call, we would love to provide you with fabulously, flavorful, feasts and festivities. 908-975-3334 or inquiries@bexkitchen.com