Silly Sunday Supper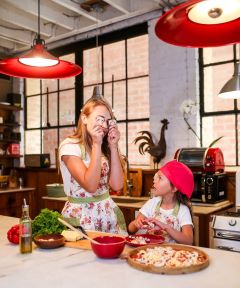 I grew up in a family that had a Sunday tradition, the alliterative "Silly Sunday Supper," in which the fridge was cleared out and leftovers were eaten – anything went, and interesting food combinations were created out of necessity. The second Sunday in January is Sunday Supper Day. "Supper" is an interesting word: it originally designated a light evening meal after the main (lunch) meal of the day, which was "dinner." Depending where you are, "supper" may have a local meaning. Either way, the day in January (January 9th this year) encourages people to gather with family – however you define/create it – and bond over a meal. Put the cellphone away, live in the moment, and connect with people and the food we eat. 
As we mentioned in a previous post, the "Sunday Sauce" (an all-purpose red sauce) is big in some Italian-American families. On the popular show Jersey Shore, the cast members were known for sometimes hilarious, sometimes vicious in-fighting six days a week, but put aside their differences for a group meal on Sunday. As Mike "The Situation" Sorrentino told Vulture magazine: "Someone would set the table, and someone would make the salad, and we would all eat together and say grace. We came together [at] Sunday dinner and put our differences aside, and we always had differences." 
Though The Situation is often discussed as a cartoonish character, he makes a good point: differences always exist, but the opportunity to have sustenance in common and good, old-fashioned discussion over a meal always exists, too. In a world divided by many differences – from the major to the minor – one thing people still have in common is the need to eat and the socialization that goes along with it. In the 1992 war film A Midnight Clear, about World War 2, a touching scene involves a snowball fight between the Germans and Americans on Christmas, after intense fighting. Differences were put aside, at least temporarily. 
Bex Kitchen is all about bringing people together over food. Chef Becky has seen food bring people together: at wakes (including an Irish wake), weddings where people didn't get along outside the event, and cancer survivors' celebratory dinners. Food is often a symbolic way to heal wounds, move on from things, and nourish for life events: moving, celebrating, marking the passage of time – not just basic nourishment. The Chef has even noticed a trend in the corporate world to have employees attend small, intimate, catered gatherings in order to foster connection and discussion away from the impersonalness of email and business. 
If you want to have an event to bring folks together, leave the work to Bex: from planning to the actual event, from soup to nuts, Bex delivers simple, healthy, high-quality food.
It's all about the bite.