Timing + Temperature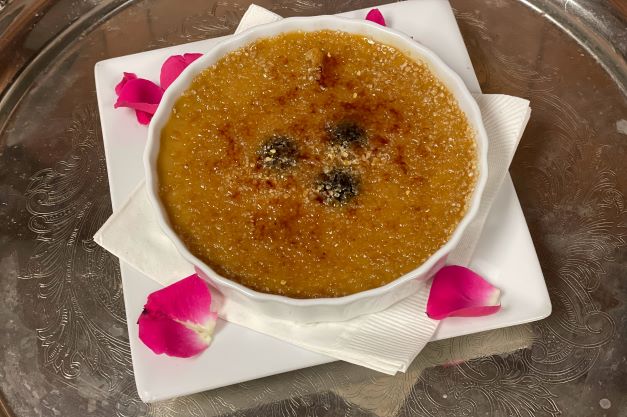 Chef Becky was asked to contribute her sentiments in an article for Eat This, Not That from a Chef's perspective. She offers her advice on ordering dessert when dining out, keeping true to her simple values, and eating fresh and in season. 
Chef Becky Geisel never orders crème brûlée at a restaurant, as her previous dining out experiences have soured her on enjoying one of her favorite desserts. The chef finds this simple dessert habitually overcooked at restaurants, and states that "you are dealing with delicate egg yolks, plus cream that needs to be cooked in a water bath, and timing has to be perfect or it turns out terrible." Rather than ordering out, she prefers to cook this custard dessert herself at home, or in her Café for her catering patrons who love her attention to perfection. Overcooked eggs turn into hard custard, losing their velvety texture, and affect not only the texture but the flavor too. When the timing + temperature of this dessert isn't executed properly, it turns the silky, light, and creamy custard into scorched eggs and milk in a dish. When Chef prepares crème brûlée in her Bex Kitchen, her dessert custard is a melt-in-the mouth-experience. Her professional cue for knowing when the dessert is ready to pull out of the oven is when it starts to bubble on the edges and the center is still jiggly.
As a Chef, Becky is sensitive to overcooked eggs and attributes this to growing up in the heart of farm country, where eggs were always local and fresh. According to Chef Becky, wholesome and natural ingredients should be revered and enjoyed in true form, and cooking eggs properly is an overlooked skill, something she finds all too common when dining out.  She credits proper timing and temperature as important fundamentals for preparing the perfect egg, just like making the perfect crème brûlée! 
 When selecting a dessert for the end of a meal Chef suggests that you stay local and seasonal with your dessert selection, the simpler and fewer ingredients, the better. She recommends a scoop of good ice cream or fresh fruit and chantilly cream, with a shortbread cookie as the perfect finisher to a great meal. She also suggests a chocolate truffle or chocolate-covered strawberry, when in season, and avoiding something big and heavy.