Spread the Goodness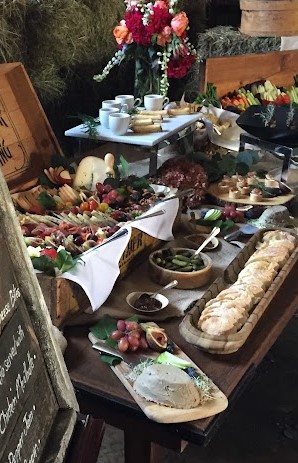 Bex Kitchen is located in the heart of farming country, surrounded by apple orchards, dairy, cattle & wool farms, along with cider mills and fruit and vegetable growers. Readily available access to local and farm fresh food sources provides the inspiration for Chef Becky to provide healthy, simple, wholesome food to her clients. 
Butter Boards are a trending favorite and Chef Becky, with her self-taught, healthy lifestyle influences, has taken the butter board to an all new level. Chef's Butter Boards include beans, nuts, and vegetables, which contain all heart-healthy fats and satisfying flavors. Beans such as simple cannellini or lentils are transformed into a delicious and satisfying bean butter by the Chef in her kitchen. Nut butters are the backbone for her healthy cheese boards, and they are also the star of her vegan charcuterie boards. The Chef's use of beans, nuts, and vegetables as a basis for these spreads are a healthier addition, along with providing alluring colors, flavors, and textures to these boards. Vegetables such as beets provide a creamy and rich color and texture to the butter spread, and herbs act as the fine-tuned addition bringing the flavor all together.
The ag influences of this area also provides access to a wide variety of butters, milks and cheeses. These contribute to the Chef's healthful choices and act as the basis for her butters and spreads. Not only is cow's milk the only limiting option, readily available sheep's milk, goat's milk and vegan butters transform her Butter Boards into a unique, local and fresh experience.  
These milks produce a higher fat butter which contains high density lipoprotein, aka,  good cholesterol and different flavor profiles, as the sheep and goat graze on different local grasses including onion grasses, clover, and other broadleaf roughage. Chef prefers using butters with a higher fat content, as it is rich in healthy omega-3 fatty acids and anti-inflammatory properties which are healthier for you. Butters should be consumed in moderation, and therefore, the Chef incorporates butter with her other healthy ingredients mentioned above for an overall healthful + balanced lifestyle. Interested in having a butter board at your next gathering? Give us a call 908-975-3334.