Cooking is Creativity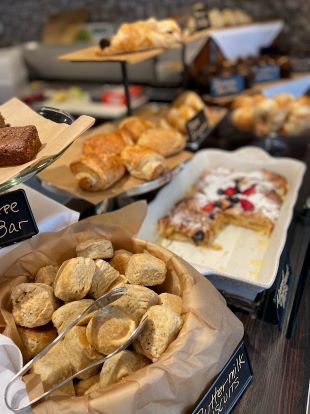 You Have to Start Somewhere 
Bex is a multifaceted culinary company that started humbly as a restaurant/cafe in the quaint bucolic town of Califon, NJ. Califon is in Hunterdon County, largely a farmland area in western New Jersey that, at one time, produced more peaches than the state of Georgia. Chef Becky was born and raised in the area, where she ran an early morning old-fashioned milk route (with glass bottles!) and later an ice creamery before going into the restaurant business. Bex currently does elevated catering and is expanding operations, including re-opening the restaurant/cafe now that we've entered a post-covid phase. 
Chef Becky's Go-To Kitchen Device 
Her one item that has improved production outcome is the good ol' convection oven. Chef Becky notes that it cooks food rapidly and – importantly – consistently. The convection oven also comes in a variety of sizes so it scales well with different sized kitchens. The Chef is used to cozy, intimate kitchens with limited space, as many kitchens she's worked in in the rural New Jersey area are in older, converted buildings. 
Why the Convection Oven Rules 
"The convection oven is a godsend," the Chef says without any hesitation. "It is an absolute necessity for my pastries, which range from Bex Bites bars (dense, nutritious, sweet bars) to breakfast pastries for sit-down eating and catering, to cakes, cookies, and cupcakes I make unique to special occasions." (The Chef has a strong background in art and design from the Parsons School of Design.) Creativity is Chef's middle name: from solving problems on the job to envisioning future directions of the company to topping a dish or baked good. The Chef is naturally creative, having drawn artistically since an early age, and her art school training only strengthened her skillset. Cooking is creativity. 
Reliability is Key in the Kitchen
Specifically, in a tight kitchen with a small, dedicated staff and fluctuations in business and consumer taste and thus unpredictability, Chef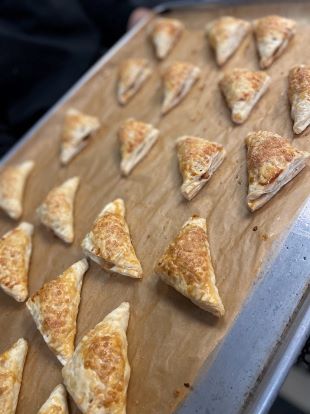 Becky relies on the convection oven like a carpenter does a hammer. The Chef doesn't cut corners with premade ingredients or suspicious methods: she bakes from scratch the old-fashioned way, using only high-quality ingredients and a philosophy of simple, wholesome, healthy, straightforward pastries. She also loves incorporating globally-diverse influences from her reading of cookbooks, her travels, and her experiences with different cultures. Since baked goods are made in different ways in different cultures, the convection oven allows her to remain flexible, whether it's something sweet or savory. We all have our "old reliable" favorite tool, and the convection oven is Chef's. 
Some Battlefield Advice for the Aspirant Chef 
Chef Becky is a self-taught chef and believes in helping others with advice, especially women entrepreneurs in a largely male-dominated culinary environment. "When I wake up each morning, I hit the snooze button on the alarm clock – but it's not to go back to dreamland. It's to plan the day, visualize it, thinking through all the moving parts that need to synchronize in order to produce the best results. Think things through in a logical fashion. Don't let perfectionism derail you. Baking is great for the brain: it combines the hard sciences (chemistry, physics, math) and one's artistic sense. It unites the two different lobes of the brain. There is, of course, also a large element of intuition, instinct, and improvisation in baking pastries. And, as I've mentioned, the convection oven is the premier tool to rely on. If you're a female chef, don't be intimidated by men when discussing technical things, because all equipment eventually needs servicing. The convection oven is a workhorse but it's good to understand how machines work and how to keep them running strong."