Say Cheese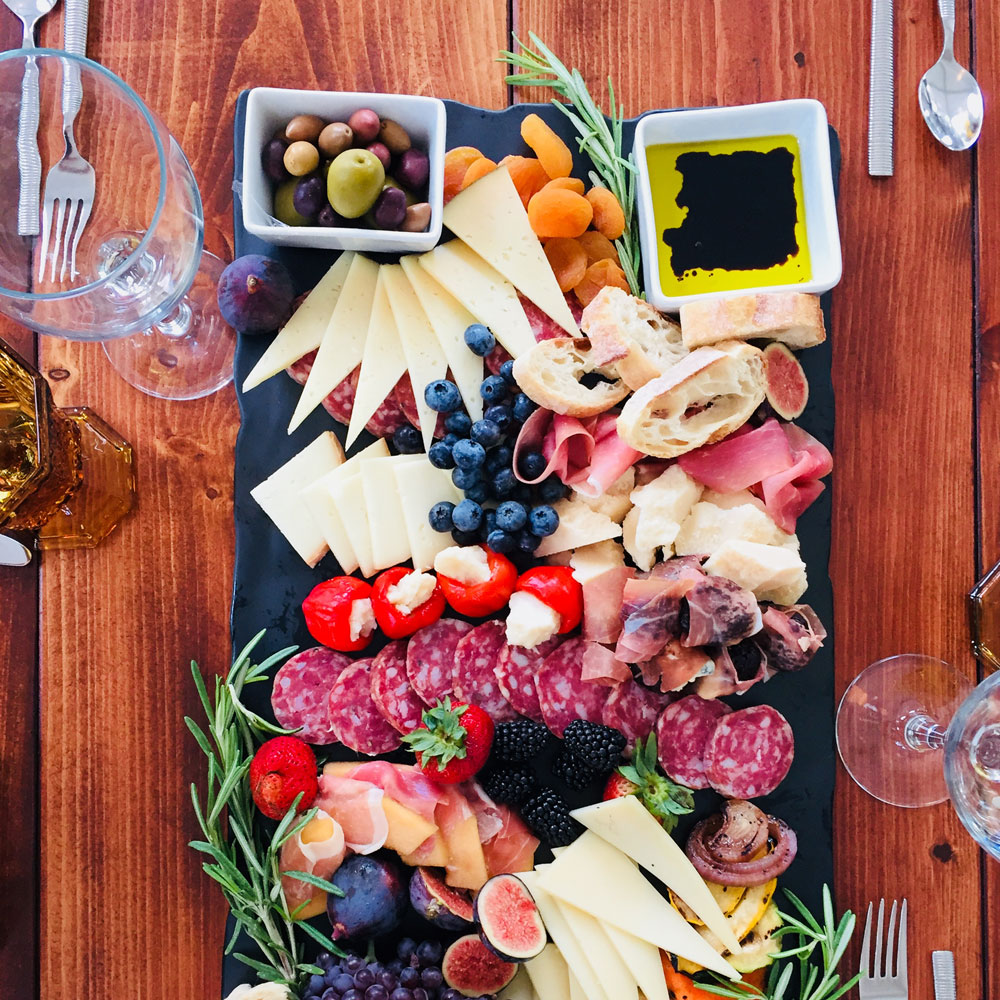 As a well established catering company, our highest compliment is when we hear guests say that they know an event is catered by Bex, just by looking at the Charcuterie Board presentation. We stylize our cheese boards in a memorable way.  Not only is the food distinguishable, our boards are presented in a visually appealing style. Unusual wooden boxes serve our eco-conscious mission as well as connecting Chef to her Jersey roots and family origins. Chef Becky Geisel's grandfather was a farmer and a skilled carpenter, and crafted amazing things from wood using wooden tool boxes in his trades. Early on in her career, Chef Becky used what was accessible to her and using these boxes that were in her family became her trademark. Now Chef Becky procures unique and different boxes to accompany her collection including vintage hat boxes, antique loaf pans and even a really old fashioned bomb box from Picatinny arsenal. These boxes keep her connected to her beginnings and favorite inspiring memories while providing a beautiful visual backdrop to showcase her amazing cheese boards providing a springboard for Bex's iconic and visually captivating style. 
As a Lifestyle Food company of 15 years, we know that our catering is destined to accompany a very special event and our desire is to make it extraordinary with our healthy, whole food. We ask the right questions to fulfill the client's heart's desire. We have charcuterie boards that can be used as a main focus course, or as a first course appetizer. As a Euro inspired company we are able to provide boards that can even be used as a savory dessert course. We can tailor the board to the budget or dietary preference. Our Chef even produces her own specialty Bex nut cheeses which are vegan and made from macadamia nuts, almonds or cashews. These specialty cheeses are hand crafted and take weeks from start to final product, and the taste tells that it's worth the wait. The Bex team is skilled at working with a variety of budgets from our Antique boards to our scaled down bamboo boards. Ingredients include the finest variety of locally sourced sheep, goat  cow's milk cheeses from nearby Valley Shepherd Creamery in Long Valley NJ, BoboLink Dairy of Asbury NJ, or fine New York state cheddar.  imported French and Spanish cheeses such as Manchego, Gruyere, Petit Bosc are other favorites for our boards.  You will find an assortment of artisanal, local meats on the boards as well as seasonal fruits, vegetables, fresh baked breads and specialty crackers. 
We work with our clients to ensure the board created is right for their setting, budget and time of year. Our boards are intended to be served for a specific course not left out for the duration of the meal. Our boards are also seasonally inspired and in the heat of the Summer, our Chef will make recommendations for crudité instead of cheeses to ensure the highest quality and food appropriate for the setting and temperature. 
Our Chef will make wine pairing recommendations upon request for our customers and has a preference for selecting a Sancerre or a red Bordeaux with her boards for their tasting notes. Sancerre notes of herbs, green apple, pear, honeydew melon and white peach compliment the savory notes in the cheeses. Red Bordeaux with its hints of black currant, plums, and earthy notes enhances the flavor profile of our meat selections, fruits and cheeses found on our boards. 
Bex is a lifestyle food company providing full service fabulous, flavorful, feasts & festivities to the local tri-state area. It's all about the bite at Bex. Inquire about catering for your special event by emailing info@bexkitchen.com